What is FPV Drone Flying?
FPV or First Person View is the most unique experience of interacting with your aircraft through a level of immersion that is unparalleled by anything short of virtual reality.
In its most basic form, it takes you, the pilot, and transfers your visual consciousness into the body of a fast, agile, and precise flying machine. There are really about three different schools of FPV multirotor flying; racing, freestyle, and aerial photography.
What can you use a FPV drone for?
It all really started off with people wanting to race their self built drones against others but now the uses go beyond that. We mainly use our FPV drones for filming action scenes in extreme sports or where you need a more thrilling view of something that isn't that exciting.
For enjoyment we like freestyle flying, and Freestyle is a form of expression in flight, more focused on acrobatics and exploring your environment.
FPV racing consists of flying either solo, or with a group of other pilots, through a series of obstacles, flags, and gates.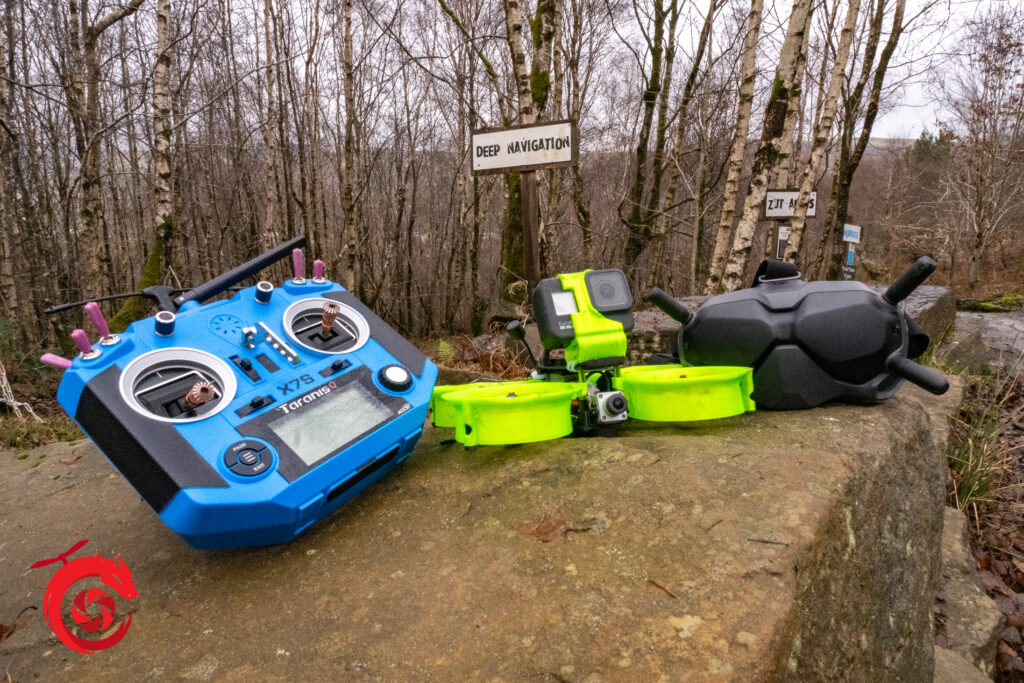 Services we offer
Although we supply Ready-To-Fly drones, they still are not as good as a custom built one that has been tailor made, so South Wales Drones offers a personlised set up service. Also these are not as simple as your regular DJI or Autel drones, they require setting up specifically using unique FPV software that is free to get but complicated to understand and use. So at South Wales Drones we offer services that hopefully meet your requirements. Get in Contact.
Ultimate Build Package starting from £1300:
The Ultimate build package is just that, its the ultimate that can be put together. We will find out if you need a Cinewhoop or 5″ style drone then build you a package that just rocks. In these we use the DJI Digital HD FPV system as its the best experience you can have. This package can be tailor made but will usually consist of:
A HD FPV drone that meets your needs
DJI FPV Goggles v1 or v2
DJI FPV Controller or equivalent (If you already have a radio we can accommodate that)
Lipo Battery
Lipo Charger
After sales setup and support
The Starter Package starting from £450:
The starter package is perfect for those who want to get into FPV and want to stick to a budget. Starter setup is a complete package that covers everything you need to get flying and stay flying. This package uses analogue video transmission systems and so is cheaper than the digital HD systems out there. These packages can be tailored to your needs and we'll want to talk to you about what FPV drone suits you. Starter packages usually include:
A FPV drone that meets your needs
FPV Goggles like the Eachine EV100 but this can be upgraded to Fatsharks.
Controller like Taranis QX7 (If you already have a radio we can accommodate that)
Lipo Battery
Lipo Charger
After sales setup and support
Find out more by getting in Contact.
One Off Projects
If you have a specific project in mind or just need to add you an already existing fleet. We can help.
Cinelifters like the Shendrone Thicc 2.0
Cinewhoops like the Squirt or Beta 95x
5″ freestyle FPV drones like the ImpulseRC Apex
7″ Long range FPV drones like the TBS Source 1
What ever it is get in touch for a competitive quote. Get in Contact.
Training and Support
As a part of the packages we provide we put in time to help train and support you with getting into FPV. Training can be done in person and over a video call and the same goes for any support.
However if you already have a setup and need help or want an upgrade then we are happy to assist. We can often talk someone through solving problems. In order to do this we would need you to have the right software installed on your computer, our FPV drones are set up using Betaflight Configurator.
Need help? Get in Contact
Types of FPV Drones
Tiny Whoops or Micros
3″ Quads or Cinewhoops
5″ Quads Freestyle or Racing
7″ Hex or Quads for long flights
Cinelifters
Useful links that may give you inspiration or just be helpful.